"Pakistan Hai Hamara" Initiatives
Pakistan Hai Hamara ('Pakistan is ours') derives its names from the lyrics of a song by Junoon entitled Jazba-e-Junoon ('the spirit of passion'). Pakistanis have long embraced the song as an anthem of sorts, as it exemplifies their determination to follow through on a clearly defined mission.
Our initiatives are part of civilian efforts on reclaiming the original vision of a pluralistic and progressive homeland through art, culture, health, and education.
SSGWI believes that positive change comes from empowering everyone in a community. In rural areas in South Asia, women are often caregivers for homes and children. Proper child-rearing is integral to inspiring change and can be fundamentally transformed with proper education for the caretaker. We believe in the ancient African proverb, "When you educate a woman, you educate a nation."
Driven by the goal to promote equality and female empowerment, SSGWI adopted The Spring School in Mansehra, Pakistan, in 2008. At the time, the school building was dilapidated and hazardous to the children. Boys and girls were limited to learning from preschool until Grade 7 only. Utilities and supplies were either rundown or scarce. SSGWI sought to adopt the school and provide free education to the girls, who were otherwise discouraged from attending and deprived of school funding.
Since then, SSGWI has shifted the school to a modern building, expanded to provide labs and vocational training services, and added classes up to Grade 10. Dr. Samina also provided health and wellness sessions on Skype for older students. Since the initiative began, hundreds of young women have been provided with free education from childhood to adulthood.
Future plans include upgrading the school to college-level, along with acquiring college accreditation. There are also plans to build a playground for students to promote a culture of health and fitness.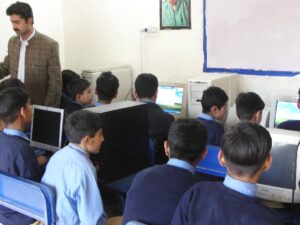 Adopted a Village
Rural areas in southern Pakistan were severely affected by flooding in 2010. Many villages in the province of Sindh have washed away, and over 20 million people were displaced. Part of SSGWI's mission of creating opportunity and empowerment includes providing communities with basic resources and infrastructure to build itself forward. In the aftermath of the 2010 floods, Dr. Samina visited Sindh with the intent to adopt and rebuild a village.
Following months of searching, she identified a village in need in Sajawal, Thatta. Residents of the village, named village Sulaiman Mallah, shared their hardships of losing shelter and sustenance to the floods. A mother of twin infants approached Dr. Samina and, on hearing of her medical background, urged her to adopt one of her children as "she could no longer take care of both." Overwhelmed, Dr. Samina decided to adopt the village in 2012.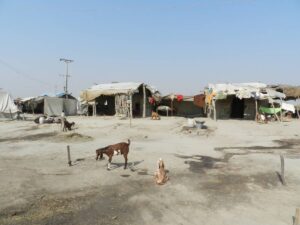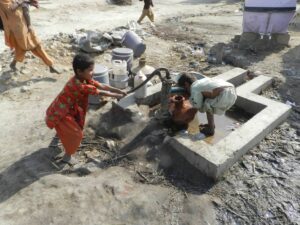 Health is an integral part of SSGWI's mission. For Dr. Samina, it was not enough to simply adopt a village and rebuild its infrastructure. Equally important was ensuring the well-being of its residents to empower them to become agents of positive change. Initially, the most rampant diseases in village Sulaiman Mallah were skin infections and respiratory diseases, both of which were largely a result of lack of hygiene.
A lack of awareness of proper hygiene and lack of resources left a majority of the population suffering from various ailments. With that in mind, Dr. Samina introduced a medical clinic for her adopted village. The population of 700, including children, youths, adults, and the elderly, receive free medical examination and treatment annually.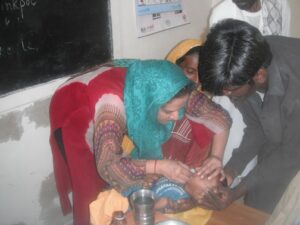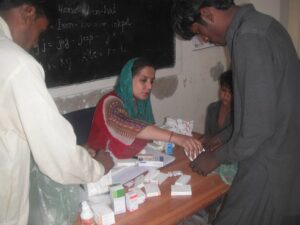 Villagers had been suffering from severely poor dental hygiene, largely due to lack of resources and intake of betel leaf seeds, which creates the risk of mouth cancer. Dr. Samina supplied basic hygienic materials, including soap, tooth powder, shampoo, and more to the residents.
With the help of a translator, she gives wellness talks every year on managing proper hygiene and self-care with limited resources. Children were incentivized to brush regularly with promises of tokens, which had positive results. Village Sulaiman Mallah now has routinized hygiene and successfully reduced the number of cases of dental and other hygiene-related concerns that arise.

The massive flooding of 2010 had deprived not only the villagers of their homes but also their personal belongings. Dr. Samina supplied the entire village of 700 with clothing and blankets in 2012.
Each household was provided with three blankets. Families were also given pots and pans to increase their self-sustenance. Blankets were again distributed in 2015-16. During Eid-ul-Fitr in 2018, women and men were gifted new clothes to celebrate the religious holiday.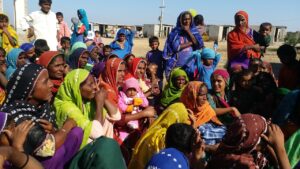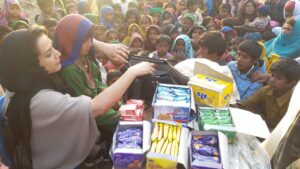 Dr. Samina wanted to provide education of all forms to village Sulaiman Mallah. She inquired among the young students what they were eager to learn. The students, who are all Muslim but lacked religious education, shared an eagerness to learn about the Islamic faith.
Dr. Samina hired a religious instructor in 2013 to provide lessons for all ages. Since then, children of both the adopted village and neighboring villages come to receive lessons from the instructor.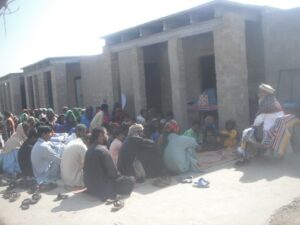 Dr. Samina provides rations to her village biannually, in the month of Ramadan and in the winter. Forty-three households are supplied with rations. Often ration distributions are followed by a dinner for the villagers along with singing and dancing to create harmony and positivity in the community.
In 2020, the villagers were supplied with rations during the month of Ramadan and throughout the COVID-19 pandemic across Sindh. This was especially helpful for families who were unable to go to work and earn wages due to the nationwide lockdown.
In 2019, Dr. Samina expanded her outreach to include other neighboring and needy villages in the Feed the Hungry initiative. Over 250 families were provided with rations and essential items during the month of Ramadan and in the wake of the COVID-19 pandemic, which left countless villagers deprived of work due to the national lockdown across Pakistan.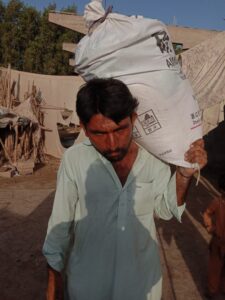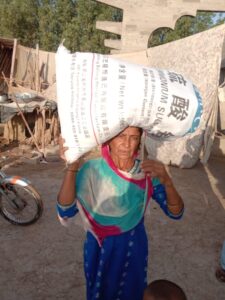 Prior to adoption, the village Sulaiman Mallah relied mainly on a nearby lake for its source of water. However, the lake dries up for four months each year, depriving the residents of regular drinking water. In 2017, Dr. Samina introduced hand pumps to the village to ensure an adequate and consistent water supply throughout the year.
Over time, news reports emerged of neighboring villagers coming by to collect water from the adopted village. Their own supplies were scarce. In response, Dr. Samina expanded her water pump initiative to the neighboring village. Future steps will involve providing other nearby villages with water pumps to guarantee adequate water supply.
"With proper guidance and consistency, proper incentives and education,
human behavior can be changed for the better."
- Dr. Samina Ahmad
Health and Wellness
Dr. Salman Ahmad
Dr. Salman Ahmad was nominated as the UN Goodwill Ambassador for HIV/AIDS in 2000. Although his Ambassadorship began prior to the launch of SSGWI, Dr. Salman continued his tenure as an Ambassador for ten years, using his musical talent and social power to promote different media campaigns.
His work was folded into the mission of SSGWI. For World AIDS Day in 2005, he leads the biggest HIV/AIDS awareness campaign in Pakistan called Al Vida (or 'goodbye' in Urdu), a song and music video dedicated to a woman's struggle against stigma and ignorance directed at people with HIV.
In 2000, the number of newly-infected cases was 5.3 million, and the number living with HIV/AIDS was 36.1 million (source: UNAIDS and WHO, December 2000). By 2008, the number of newly-infected cases had fallen to 2.7 million, while the number of people living with HIV/AIDS had reduced to 33.4 million.
Dr. Salman Ahmad's role as Rotary's Goodwill Ambassador for Polio Eradication in Pakistan commenced on August 1st, 2014, and continued until August 1st, 2018. Pakistan was facing a 60% increase in polio cases, with 93 cases in 2013 compared to 58 in 2012.
The Director-General of the World Health Organization had declared polio as a Public Health Emergency of International Concern under the International Health Regulation, requiring all Pakistanis of all ages to be vaccinated before international travel. By 2014, polio cases had escalated to 306 in Pakistan.
When Dr. Salman concluded his role as Ambassador, the remaining number of polio cases was eight.
Tremendous progress was made in Pakistan in eradicating polio during this period due to better and more focused coordination between all the national and international stakeholders. Rotary polio plus reports an 84% decrease in the number of polio cases has put Pakistan back on track in polio "end-game strategy."
Skoll Global Threat Fund gave Dr. Salman the platform and funding to facilitate polio advocacy in Pakistan. The program was carried out by Pakistan PolioPlus Committee (PNPPC) under the patronage of Rotary international.
On March 11th, 2020, the COVID-19 outbreak was characterized as a pandemic by the WHO.
At the time, Dr. Salman was in New York, then described as the epicenter of the virus. In early April, he contracted the virus and self-quarantined.
Dr. Salman regularly engaged with followers on social media and news sources in Pakistan, sharing details of his experience, including symptoms and treatment, both to create awareness among Pakistanis and encourage prevention, including advising viewers to maintain good hygiene and social distancing.
He also involved 100 global artists in creating a song, "Tujhe Salaam" ('I salute you'), to applaud the efforts of frontline workers during this crisis.
Dr. Salman and Dr. Samina made public service messages using music to convey the importance of practicing good hygiene during this crisis.
In June 2020, SSGWI started a fundraiser online for most needy in Pakistan. With the help of the SSGWI community, friends and family, $100,000 was donated to help the most vulnerable and needy populations across Pakistan during the COVID-19 pandemic.
Health and Wellness with Dr. Samina Ahmad
The future of medicine lies in an integrative approach where practitioners, research scholars, trainers, manufacturers, herbal cultivators, and distributors form an international platform to integrate (Siddha, Ayurveda, Unani, Homeopathy, Yoga and Naturopathy, Traditional Herbal Medicine and Integrate Allopathic Medicine) and bring them under one umbrella to promote global wellness.
Dr. Samina delivers health and wellness lectures in universities, medical colleges, community organizations, institutions and nonprofits around the globe, and to villages and schools in Pakistan.
She delivered a presentation on "Health Challenges Facing Pakistani Women and Children" at the Center for South Asia at Stanford University.
She also delivered a talk on "Achieving Optimal Wellness with Holistic Approaches" at Saint Louis University in 2014.
Dr. Samina also presented at other notable institutes, including but not limited to:
Dr. Samina has also regularly provided lessons on health and hygiene to the Sulaiman Mallah village.
Throughout the COVID-19 pandemic, Dr. Samina has been educating audiences on prevention and immunity enhancement. Through webinars and TV interviews, Dr. Samina has reached viewers around the globe, particularly in Pakistan, Indonesia, and the United States, on natural means for preventing COVID-19 and achieving holistic wellness.