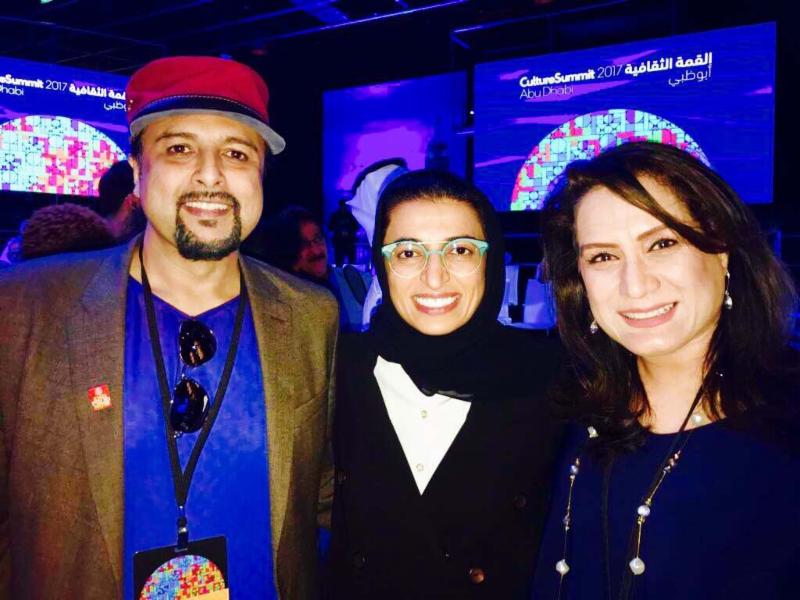 SSGWI AT THE ABU DHABI ART AND CULTURE SUMMIT
In April 2017, SSGWI was invited to the Abu Dhabi Art & Culture Summit 2017. There were 80 participating countries in a groundbreaking event lead by Mohammad Al Mubarak (Chairman, Abu Dhabi Tourism & Cultural Authority). SSGWI was a part of a remarkable group of international cultural leaders.
Their aim was to explore how artists, art administrations, media leaders, technological innovations, policymakers, and philanthropists can work together to address issues of common concern and develop action items that can make the world a better place. The Summit focused on issues like women's empowerment, climate change, combating violent extremism, new technologies, and education.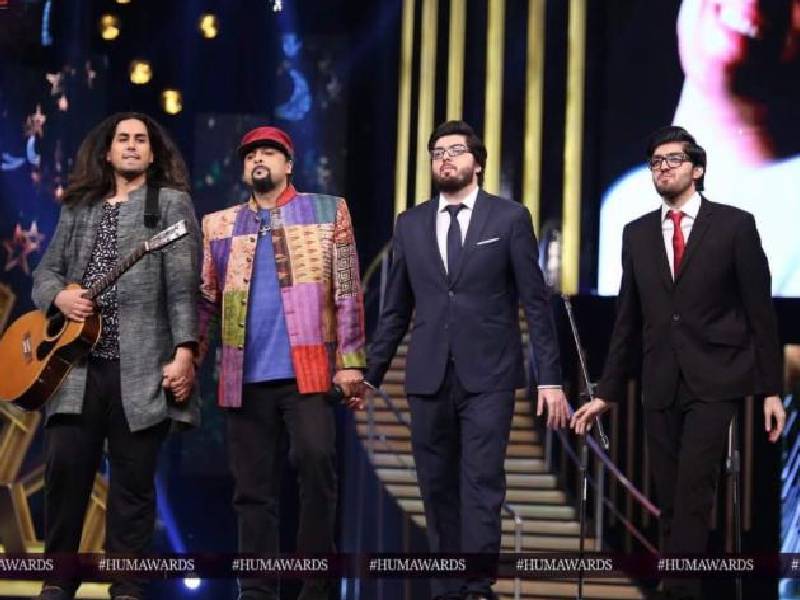 SSGWI AT SKOLL WORLD FORUM ON SOCIAL ENTREPRENEURSHIP AT OXFORD
In 2017, SSGWI attended the Skoll World Forum on Social Entrepreneurship at Oxford.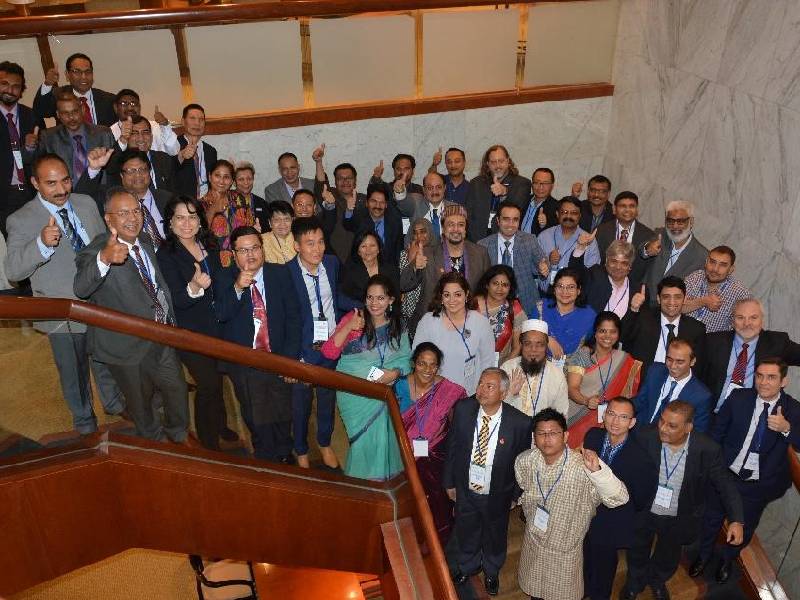 SSGWI AT DISEASE SURVEILLANCE NETWORK
In 2017, SSGWI participated in the SGTF South Asian Disease Surveillance Conference, which took place in Thailand. It concluded with the establishment of the South Asia One Health Disease Surveillance Network.
SSGWI AT TABLETOP EXERCISE
SSGWI participated at the SGTF South Asian tabletop exercise in the Maldives in 2016 and helped mobilize Pakistan's involvement in the South Asian disease surveillance network.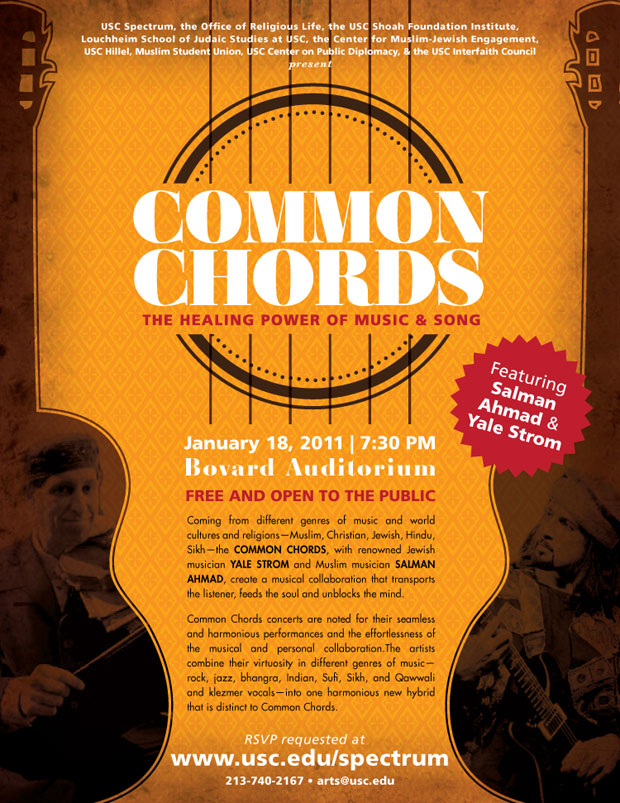 COMMON CHORDS PERFORMS AT USC
In January 2011, the band Common Chords performed a concert at USC's Bovard Auditorium at 7:30 PM. They were fronted by Salman Ahmad and Yale Strom (world-renowned klezmer artist). Featuring Muslim, Jewish, Hindu, Sikh, and Christian musicians, they played fusion music that blends qawwali, klezmer, bhangra, jazz, and rock. The event was free to the public and served to promote interfaith harmony through music.
JUNOON PERFORMS FOR UNITY JAM FOR IDPS
In January 2011, Junoon joined hands with NGO Abraham's Vision for 'Unity Jam' to help Internally Displaced Persons (IDPs) in Pakistan. The concert brought together people of different faiths. Words from the Qur'an, the Bible, and Jewish scripture were shared at this event while introducing a movement that can be of benefit for our collective future, namely Abraham's Vision (http://www.abrahamsvision.org/).
This was a wonderful demonstration of SSGWI's mission to promote interfaith harmony as multi-ethnic and multi-religious youth were brought to the stage to express their sentiments on the possibility of future peace as an alternative to permanent war between faiths.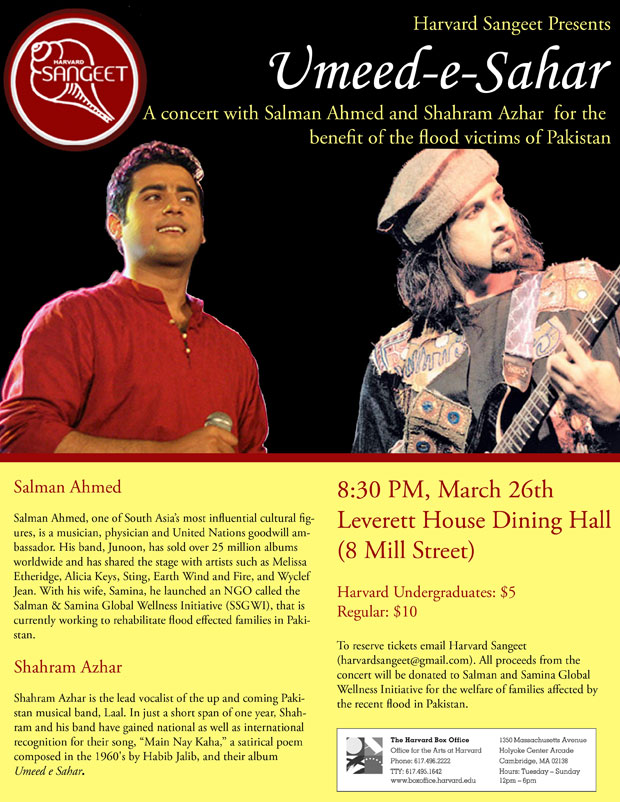 JUNOON PERFORMS FOR FLOOD RELIEF AT HARVARD UNIVERSITY
In March 2011, Junoon performed a concert at Harvard University, "Umeed-e-Sahar" (hope in the morning) as part of the Harvard Sangeet. The concert was in collaboration with Pakistani band Laal's lead vocalist Shahram Azhar. All proceeds were donated to SSGWI for the welfare of families affected by the recent flood in Pakistan.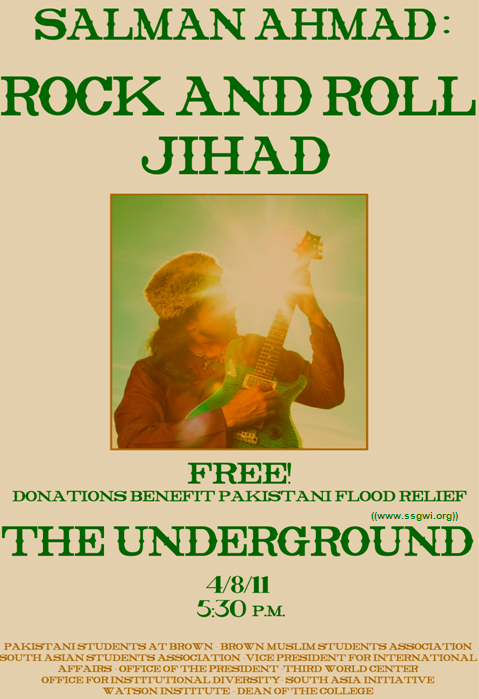 JUNOON PERFORMS FOR FLOOD RELIEF AT BROWN UNIVERSITY
In April 2011, Junoon performed at Brown University to raise funds for flood victims in Pakistan, following the hardship of the 2010 floods in the country. The concert was held for free and appealed for donations for flood relief. The event was a collaboration with, among others, Brown University's South Asia Initiative, Brown Muslim Students Association, Pakistani Students at Brown, and South Asian Students Association.
JUNOON PERFORMS FOR WORLD HUMANITARIAN DAY AT THE UN
In August 2011, Junoon performed at the United Nations General Assembly for World Humanitarian Day. A music video, 'If I Could Change' was premiered to pay tribute to humanitarian workers around the world. The track was a collaboration between various global artists, including Ziggy Marley, Somali sister-duo Sweet Rush, and Salman Ahmad.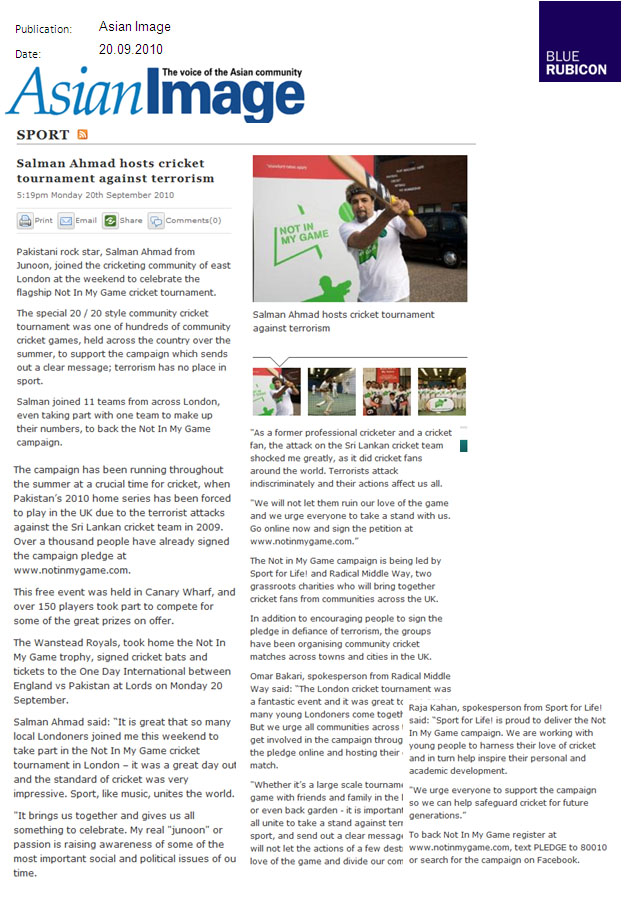 JUNOON HOSTED CRICKET TOURNAMENT AGAINST TERRORISM
In celebration of the flagship Not in My Game cricket tournament, Salman and Samina Ahmad joined the cricket community of east London, held in Canary Wharf. The tournament was an effort to unanimously decry terrorism and its efforts to promote hostility and division.
According to Salman Ahmad, "Sport, like music, unites the world. It brings us together and gives us all something to celebrate. My real 'junoon' or passion is raising awareness of some of the most important social and political issues of our time."
JUNOON'S 20TH ANNIVERSARY
Junoon celebrated its 20th anniversary with a celebration of SSGWI's mission to promote harmony through music. Salman Ahmad invited young Pakistani musicians to perform tributes of their favorite Junoon songs.
A Message From SSGWI
"Peace be upon you, friends, family, and Junoonis!
It gives us all at SSGWI the greatest pleasure in sharing our eclectic selection of 10 songs from Junoon20 (vol 1)!
SSGWI's mission is to promote cultural understanding, dialogue, education, health, and wellness through soul-stirring music, poetry, film, and literature. The language of music transcends all barriers, and after listening to the music, I'm sure you will agree with Maulana Rumi's couplet, "When you follow the music, it will show you the way."
We are very deeply grateful to all the wonderful artists of conscience who have participated and donated their time, talent, and resources for this historic 20th-anniversary compilation for Junoon. SSGWI proudly salutes you!"
"CONCERT FOR PAKISTAN" AT THE UN
In 2009, SSGWI organized a "Concert for Pakistan" at the UN General Assembly to raise awareness for the Internally Displaced Persons (IDPs) in Pakistan. At the time, the Pakistani military was waging a battle against the Taliban and Al-Qaeda in the Northern valley of Swat, but the fierce fighting had drained an already impoverished citizenry. Three million innocent people had fled their homes for safety, while many who remained in the valley suffered from lack of food, water, or electricity.
Former UN Secretary-General Bank-i-Moon said Pakistan was facing a "human catastrophe" if urgent humanitarian aid was not provided. He appealed for the international community and governments to urgently provide US $543 million for the IDPs (internally displaced persons). The appeal was launched on May 22nd, 2009. Performers at the fundraiser included:
SSGWI's campaign served to raise awareness and motivate Pakistanis and the international community to donate to the cause. People were deprived of their homes, education, health, and other necessities.
A Message From SSGWI
"The month of Ramadan is a month of giving and sacrifice, and all the international artists, speakers, and luminaries coming together are answering our call to say to the world, "Pakistan, we care about you and your people." It's a rock and roll jihad. We want young people to feel that social service is the coolest thing to do on the planet and the best way to help our wounded humanity.
Aside from its diverse international line-up, this is the first time in the history of the UN that an event of this magnitude would be dedicated to anyone member state. Pakistan will always have that honor.
We're grateful to all my UN colleagues, artists and speakers, volunteers, student ambassadors, Pakistani-American community, the Pakistan UN mission, and Ambassador Hussain Haroon and the media for uniting together for this urgent cause for Pakistan. If we remain united, all is possible.
September 12th will be a day for Pakistan, and it is over 3 million internally displaced people."
JUNOON PERFORMS IN SRINAGAR, KASHMIR
The strife-torn Indian Kashmir held the biggest musical event in the region by the renowned Pakistani band, Junoon. It was organized by the South Asia Foundation (SAF) as a concert for peace in the region. Over 10,000 people attended this mega-event on the banks of Lake Dal.
According to Salman Ahmad, "The common perception was that we would not be able to perform here in our lifetimes. For South Asia to prosper, we need peace, so I think it's long overdue that we keep building these confidence-building measures. I think Junoon's performance is a very significant confidence-building measure."
Dr. Salman Ahmad performs "Tujhe Salaam" with 100 Pakistani artists in tribute to the frontline workers during COVID-19.
To promote peace between neighboring countries Pakistan and India, Dr. Salman Ahmad performs "Ghoom Taana" ('circle of life') in a collaboration with Shubha Mudgal.
Dr. Salman Ahmad performs "Mushkilein" (Challenges) for the SSGWI campaign, "End Polio Now." The video includes special appearances by former Pakistani cricketers Miandad and Shahid Afridi, and famous Pakistani band Vital Signs.
Dr. Salman Ahmad performs "Al Vida" (Farewell) to raise awareness of HIV/AIDS. The song and video pay tribute to Shukriya Gul, a Pakistani woman who contracted HIV/AIDS from her husband. Her husband died from the disease, and Shukriya became an activist to promote awareness and fight the stigma towards the disease in the country.
As part of SSGWI's mission to promote harmony through music, Dr. Salman Ahmad invites young Pakistani musicians to make a tribute song for Junoon's 20th anniversary.
Shahjehan Khan (formerly of The Kominas) brings Western folk sensibility and romanticism in her performance of "Heer".
Usman Riaz creates a wonderful collusion of musical cultures with his performance of "Saeein".
And Bilal Khan closes the album with an ode to the Almighty in his performance of "Aap aur Hum/Dil Main Meray".
Dr. Salman Ahmad appears on Al-Jazeera news with British musician Peter Gabriel to appeal for Pakistan Flood relief.
Dr. Salman Ahmad performs the Pakistani National Anthem at the UN General Assembly.
Dr. Salman Ahmad performs "Ring the Bells" in collaboration with Melissa Etheridge to promote peace.
Dr. Salman Ahmad performs "Jugal Bandi" at the Nobel Peace Prize ceremony: